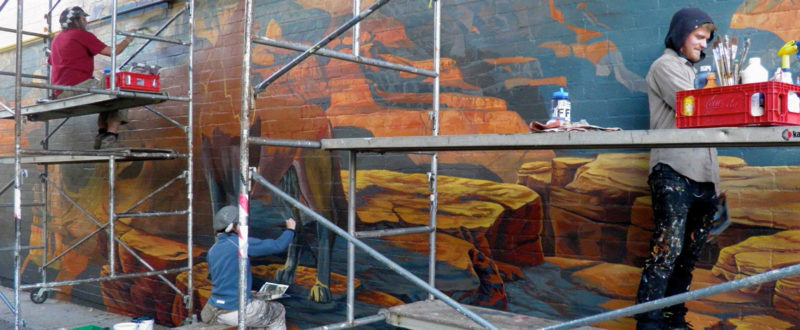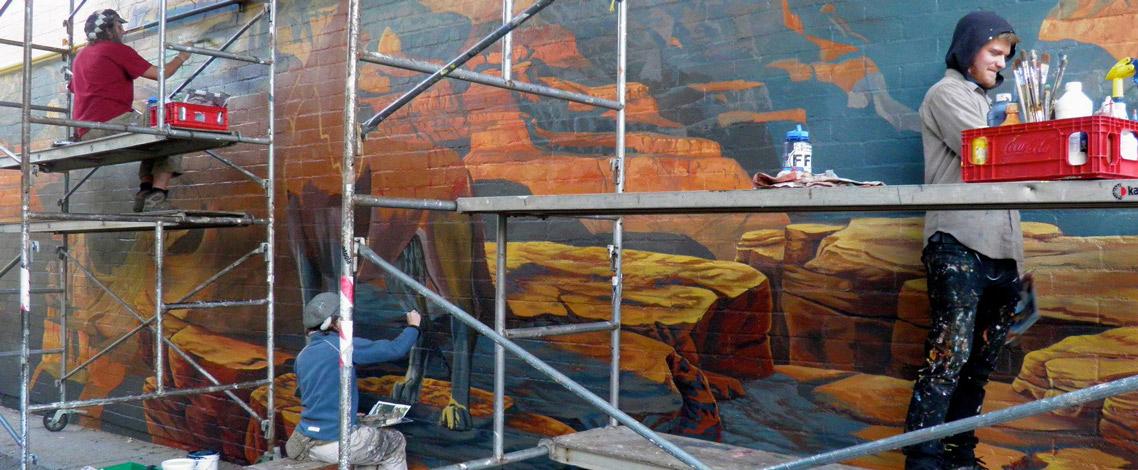 Sound of Flight: Phase Two Nears Completion
Flagstaff artist Sky Black and Mural Mice, R.E. Wall and Margaret Dewar, have joined forces to place a mural of enormous proportions on the east-facing exterior wall of the Orpheum Theater. This talented crew raised $50,000 to make their vision a reality.
The mural, designed by twenty-three year old Flagstaff painting prodigy, Sky Black is both stunning and inspiring. The piece depicts the climax of a song as a diverse flock of birds rise spectacularly from the glowing recesses of a grand piano and spreads across to encompass classical sculptures looking out over an amazing view of the Grand Canyon.
It has been a long time dream of Black to paint the historic Orpheum Theater. However on a wall measuring 4,500 square feet, the "Sound of Flight" mural is an ambitious project. That is why veteran muralists R.E. Wall and Margaret Dewar are lending their talents and community leadership experience to the cause.
As of Mid-October 2015, the mural is nearly complete and a mural dedication party is planned for November 7, 2015. Keep your eye out for more information about the fabulous shindig so you can come celebrate one of the largest murals in all of Arizona!